4G multi-mode turbo decoder

Product code: TC1700
TC1700 is a turbo decoder adressing LTE, LTE-A, WiMAX, HSPA/+, and legacy 3G standard.
The core uses a unique architecture that reduces by more than 50 % the silicon area when compared to separate single-mode Cores, with no restrictions on the flexibility and features set. The core can also be tailored efficiently to single mode core as LTE only for example.
Thanks to its unique flexible pipe-line architecture, the core can be configured into 2 performance profiles:
high performance profile for Base Station receiver
low power profile for User Equipement receiver
Three levels of throughputs are available:
1X throughput level: 12.5 to 25 Mbits/s @ 8 it., depending on selected profile and target process.
8X throughput level: 150 to 300 Mbits/s @ 8 it., depending on selected profile and target process.
16X throughput level: 300 to 600 Mbits/s @ 8 it. and up to 1 Gbits/s @ 5 it., depending on selected profile and target process.
The core is based on our robust and silicon-proven architecture that has been adopted by leading 4G system-on-chip manufacturers for both BS and UE receivers.
Its unique architecture is optimized for ASIC targets, but can be targeted efficiently for FPGA as well.
Functional coverage:
The core offers much more than a turbo decoding functionality: it covers the support of LTE and HSPA rate matching functions (see below) that off-loads the DSP from this tasks without requiring an additional hardware module.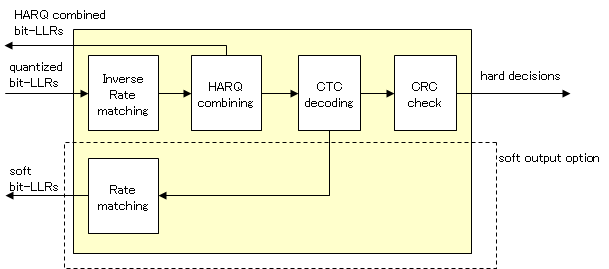 3GPP LTE mode

block sizes range: 40 to 6144 bits
rate matching: insertion of NULL bits, sub-block deinterleaving, bit collection
CRC decoding
HARQ combining (including inverse bit-selection)

3GPP-HSPA+ mode

block sizes range: 40 to 5114 bits
rate-matching for E-DCH and HS-DSCH transport channels: inverse puncturing and repetition, inverse bit-selection
HARQ combining for E-DCH transport channel (including inverse bit-collection)

IEEE802.16d/e/m WiMAX mode

maximum block size: 60 or 600 bytes (selectable)
depuncturing, sub-block deinterleaving
CRC check in 16m mode
The core can optionally provide soft outputs for all the coded bits (including rate matching of samples), which can be used for advanced iterative receivers.
Features:
Near ideal error decoding performance
Block-by-block change of physical layer mode (HSPA+/LTE/WiMAX), block length, and number of iterations
Very efficient early stopping algorithm for reducing average number of iterations (reduced power consumption, higher average throughput)
Latency reduction by bank swapping
No external memory required
Channel BER estimator
Selectable quantization level - prior synthesis (4 to 8 bits LLR quantization)
Bypassable rate matching functions
Low power architecture
Silicon proven (several UE and BS tapeouts)
ASIC Core: Verilog or VHDL RTL source code
FPGA Core available on all popular Altera, Lattice and Xilinx devices
Related Cores:
Other products / services are available. Contact us for more details.
Multiple instante LTE CTC decoder (TC1714)

HSPA encoder Core covering CTC encoding + rate-matching (TC7100enc)

LTE encoder Core covering CC and CTC encoding + sub-block interleaver (TC7000enc_LTE)

WiMAX encoder Core covering CC and CTC encoding + sub-block interleaver (TC1000enc_WiMAX)